We know we know. COVID-19 is putting a damper on your schedule. While you count your blessings that you haven't caught the illness and spend your days cooped up indoors, we thought we'd put together a few shoe options for you to consider which might spice things up a bit (or exact some revenge on a noisy neighbor!). Enjoy and--as always--let us know if there's a pair of shoes we missed either on social media or via email at info@zorpads.com!
1. These clear plastic boots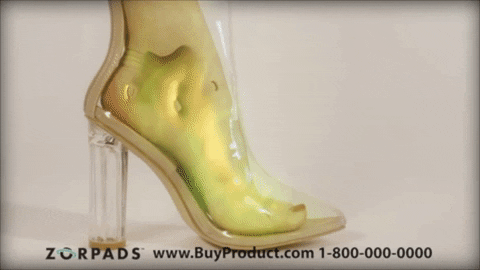 Have you ever sat at work thinking, "hm, I wonder what my feet look like right now"? Us either! But if you DID want to know, you could wear these puppies all day and keep a constant eye on them. Just don't forget the Zorpads because those shoes definitely don't breathe.
2. Sperry Top Siders
Are you craving the wind in your hair? The smell of the ocean as your catamaran cruises over the rolling waves off the coast of Santa Monica? Tough cookies because all the beaches are closed in Los Angeles due to the pandemic. If you want the next best thing to #boatlife, these Sperry Top Siders will get you in the right frame of mind, especially if you pair them with some board shorts. 
3. Rhinestone Stiletto Heels
Does your downstairs neighbor play music too loud? Do they always get it on right in the middle of your meditation session? Well if you're also a passive-aggressive type, these heels are for YOU. You'll drive the loud jerk crazy without having to even open your mouth. Just clop around in these bad boys and watch the downstairs neighbor quickly report you to the co-op board!
4. UGG Boots
Get cozied up with some UGG boots! You'll both save money on electricity by keeping the heat off and re-live your college days (Just us? Maybe!). Bonus points, they can be paired with leggings for that pants-less look that passes for a look with pants!
5. Snowboard Boots
Do you wish you were shredding some powder but they closed down all the resorts for the season? Well poke those feet into some snowboard boots and watch some snowboarding videos, it's almost like the real thing. Pro tip: stick your head out the window every once in a while for a cool breeze that feels like carving down a half pipe.
6. Rainbow Sandals
If you live in California like me, you basically live at home in Rainbows. Need to change the laundry between conference calls? No prob. Want to check the mail? Got it. Want to walk aimlessly through empty streets while socially distancing? It's covered. Get yourself a pair of these and you're ready to do anything, as long as it's leisurely.
7. These M&Ms Slippers
Do you have a problem not snacking all day while working from home? We do. Well instead of *grabbing* that snack try *wearing* that snack. A look goes a long way so don't ruin your dinner though!
8. Some Turkey Slippers
Since gathering around the table isn't safe social distancing, you might need to get a little creative. Why not wear some Thanksgiving staples! You get all the benefits of a real cornucopia of food and get to make endless jokes about stuffing (my feet into these things).
That's all for now, earthlings! Stay safe and distanced out there, we'll be back in your feed with more content shortly. If you need some Zorpads to freshen up those house shoes use the code SLIPPER for $5 off a 5-Pack. Ends Friday, April 3rd 2020 at Midnight!